The second day of the 2019 National Conference on Ending Homelessness is about the future, or more importantly, the actions we can take today that improve our systems and encourage inclusiveness for an equitable tomorrow. Keynote speakers Dan Heath and Cindy Blackstock challenged #CAEH19 participants to think upstream and be "superheroes" for First Nations children.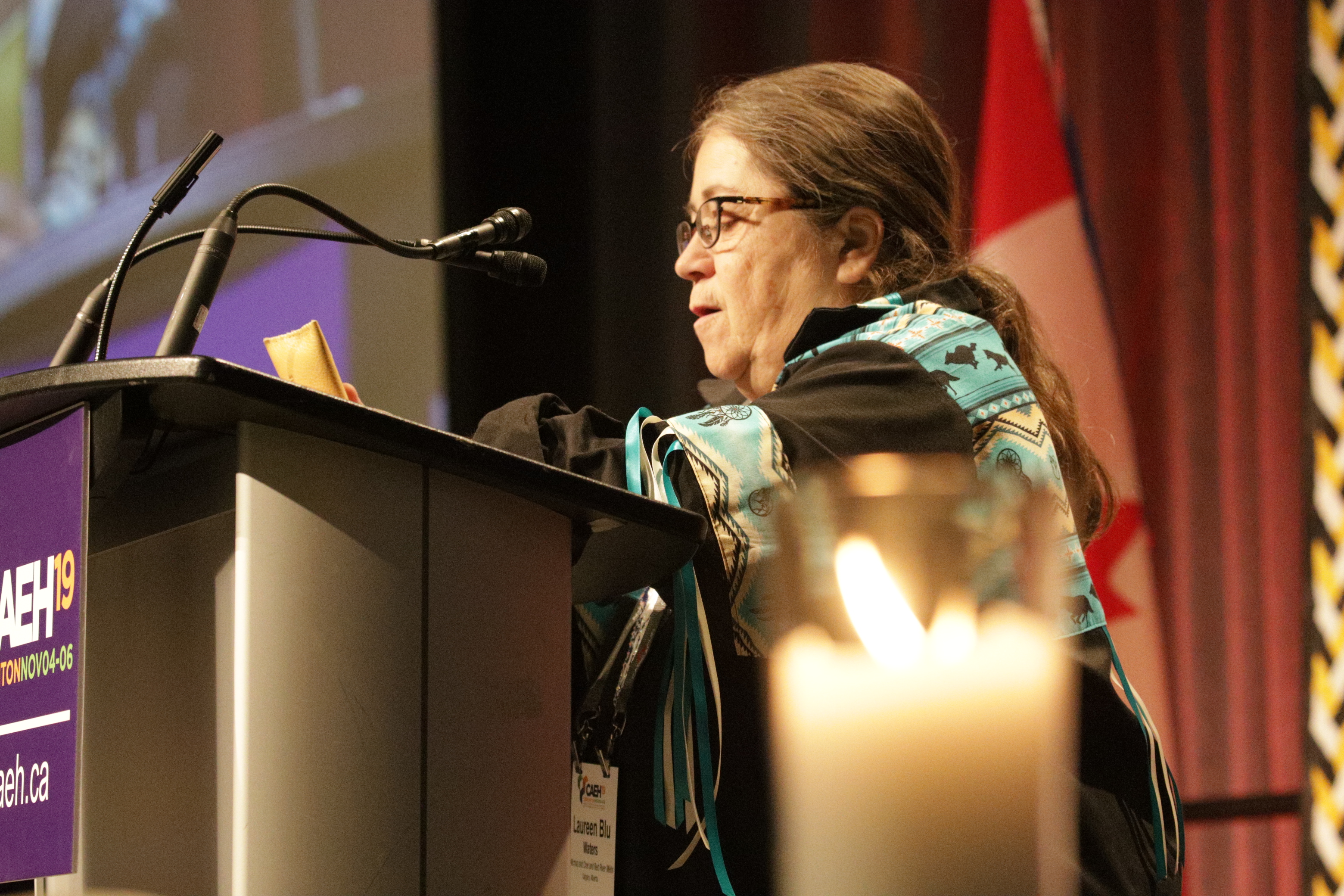 Laureen Blu Waters, Micmaw, Cree and Red River Métis Community Elder, set the tone for the day in her opening prayer for the second day of the 2019 National Conference on Ending Homelessness. "Today is about discussions for the future generations," she says.
"Help us to work toward the best of each other. Do it with compassion and kindness, ancestors be with us today to help us do this work."
Over 235,000 Canadians will experience homelessness this year and 1.7 million people are living in core housing need. Homelessness for a long-time has been perceived as a growing and intractable problem but communities like Edmonton are proving otherwise. #CAEH19 is an opportunity to bring people together to share solutions to homelessness that they can turn around and bring back to their communities to implement.
With the success of Edmonton as the backdrop, today's keynotes focused on how we can dig in and improve our systems by moving them upstream and being inclusive—not only focusing on ending homelessness but ending poverty and the social determinants that lead to it.
Dan Heath, co-author of four New York Times Bestselling Books, including Switch, focused on moving upstream. "There is a maddening ambiguity about upstream work," he says. "Upstream victories are stories written in data starring invisible heroes who save invisible victims."
Moving upstream means getting to know your system really well, removing the silos people are working under, developing tools to predict problems and putting together a team of stakeholders.  "When you understand a situation so well, you start to spot the cracks," he says. It's about shifting from responding to tragedy to preventing tragedy.
"The promise of upstream work—it's hard, it's complex, involves a lot of stakeholders, but when you get it right it matter profoundly," he says. And it starts with using data to navigate and not inspect—using it to learn instead of using it judge. Next, bank on an improving system and not heroics—the need for heroes means there are flaws in the system. Then, surround the problem as upstream work requires integration. "When you work around the problem every time," Dan says, "the system never improves. You're dooming yourself to repeating the same thing."
Edmonton is an example of a system with an improvement approach, which has helped it house nearly 10,000 people since 2009 and cut its homeless population by half. Homeward Trust's Susan McGee, before introducing keynote speaker Cindy Blackstock, said "we are definitely an 'and' community."
"We need to end chronic homelessness, AND we need to end poverty AND…".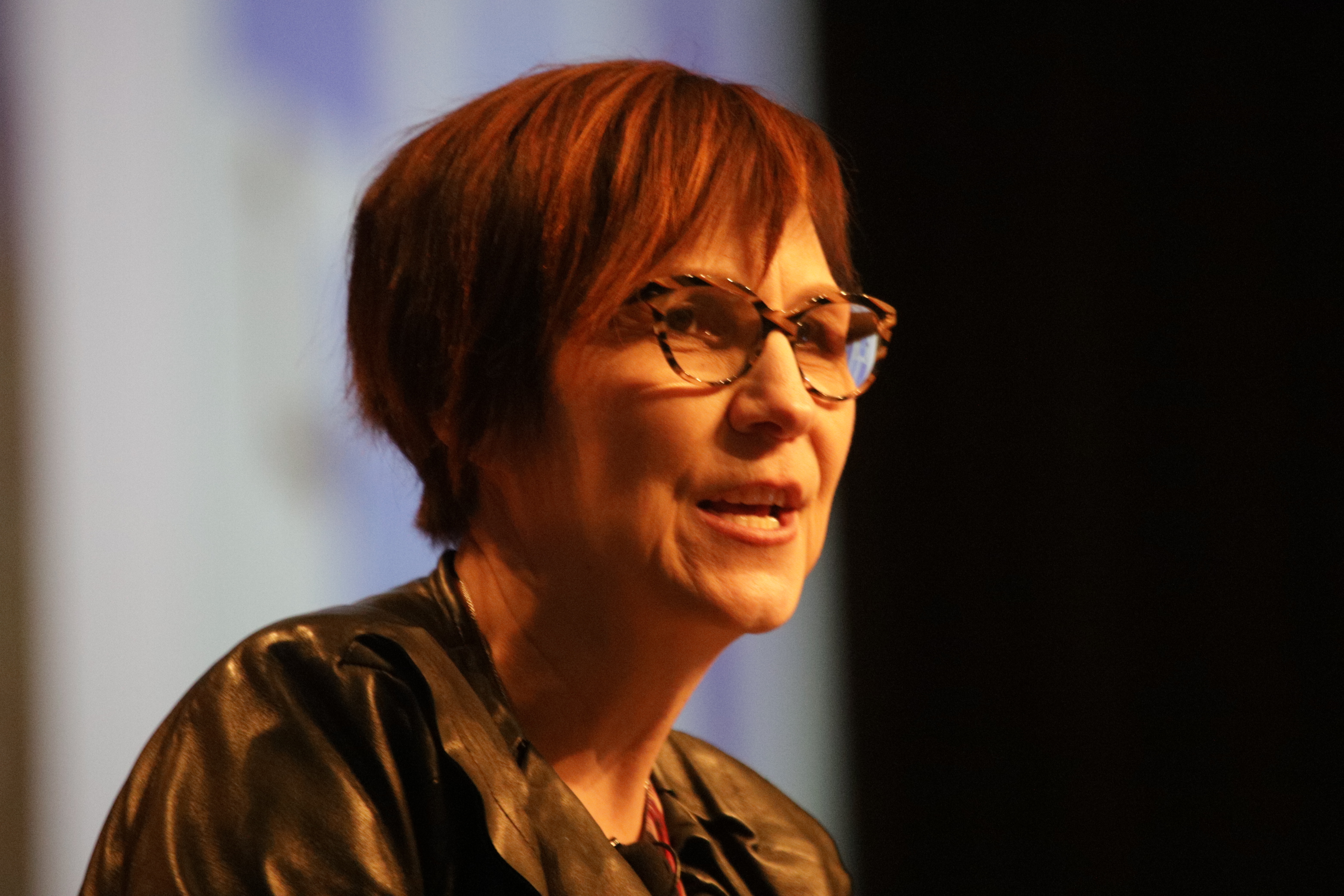 Then Cindy Blackstock, Gitxsan First Nation and executive director of the First Nations Child and Family Caring Society, led a rousing speech to inspire the 1,500 #CAEH19 participants in the room to take a broader goal to not only end homelessness—but all poverty.
"Every single one of you is a superhero for First Nations children," she says. "You can end discrimination for First Nations children in this country. We can do it, we just need to do it together."
Cindy worked on the successful human rights challenge to Canada's inequitable provision of child and family services and failure to implement Jordan's Principle. This hard-fought litigation has resulted in hundreds of thousands of services being provided to First Nations children, youth and families. She's also often spotted at events across the country with Spirit Bear, who represents the First Nations children impacted by the ongoing Tribunal case.
"What is colonialism? It is the ongoing dichotomy between the savaged and the civilized…what the civilized can do to 'help' the savage," she says.
With the Caring Society, Cindy has developed "7 Free Ways to Make a Difference" for First Nations children—building equitable societies for children who have not been treated inequitably in Canada. She encourages everyone to take action and become superheroes to build a better future.
The day ended with a memorial to honour the lives lost to homelessness. While we turn our eyes to what we can do today and tomorrow, it's important to remember the human cost to the homelessness crisis, and why we're gathering in Edmonton to build a community that takes care of everyone.
The third and final day of #CAEH19 will begin bright and early with a Sunrise Ceremony at 7:30 am MT and two incredible keynote speakers Dr. Sandy Buchman and Sheila Watt-Cloutier.
Learn more at conference.caeh.ca.