With Election 2019 around the corner, we are sharing the federal parties' answers—and our analysis—to the housing survey we sent with our partners. On October 21 be sure to get out and #VoteHousing by supporting candidates who believe in the Right to Housing, investing in housing and ending homelessness.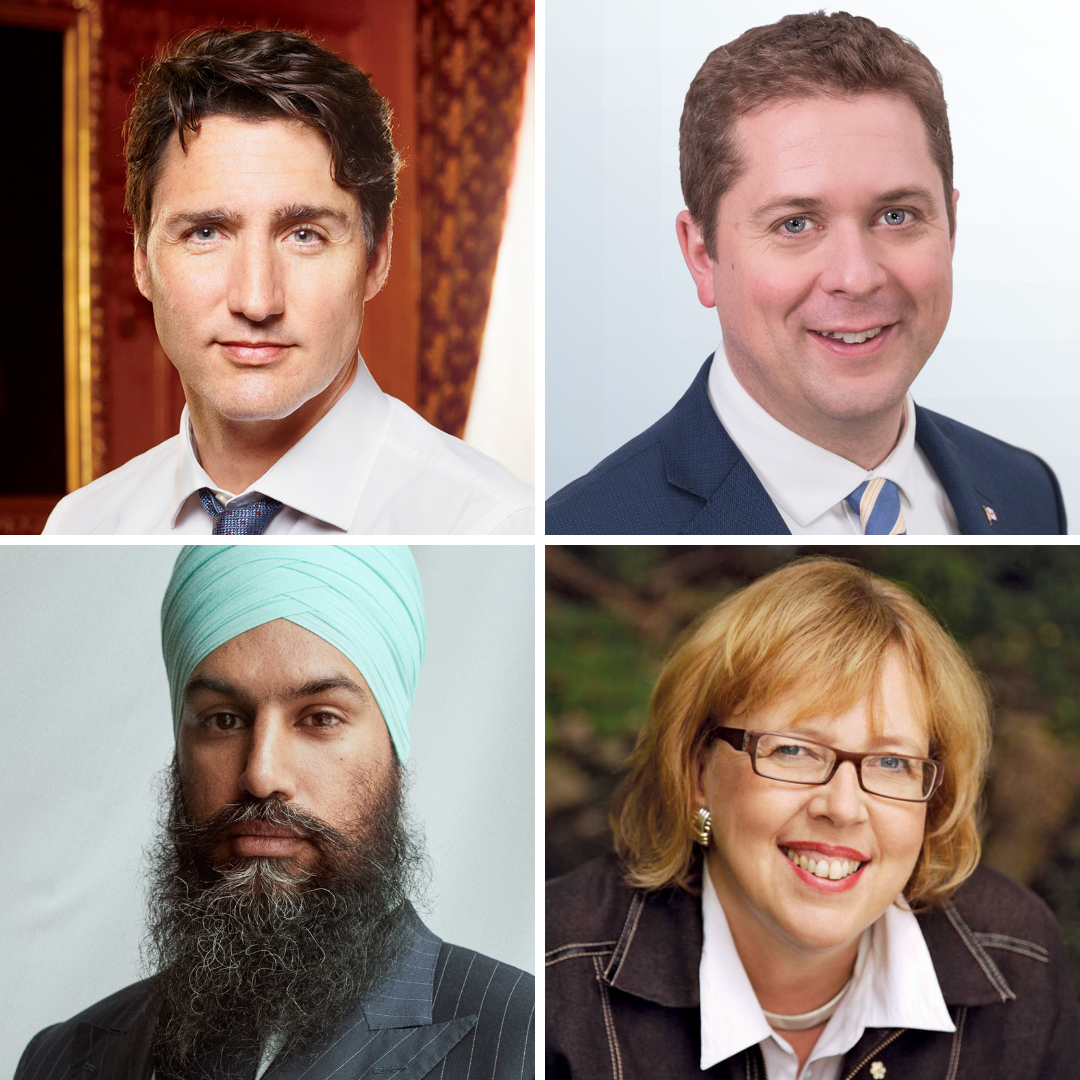 With less than a week to go until election day, the CAEH, the Co-op Housing Federation of Canada and the Canadian Housing and Renewal Association released results of a housing survey sent to all the federal parties. We received responses from the Liberals, NDP and Green parties. The Conservative Party of Canada and Bloc Quebecois responses are still pending.  
READ the survey responses here 
WATCH the all party housing debate 
Promises on housing and homelessness 
The three parties that responded to the survey so far support the right to housing and all support federal leadership on housing with varying degrees of ambition. The Green Party and the NDP both support ending homelessness by 2030 and both are promising major investments in housing with the NDP proposing the most ambitious investment goals aiming to create 500,000 new units in the next five years with an additional $5 billion investment in housing in the first budget of an NDP government.  
The Liberal Party reiterated their goal to reduce chronic homelessness by 50 percent by 2030 and promoted their $55 billion National Housing Strategy that promised 100,000 new units of affordable housing, a doubling of homelessness funding through a new 10-year federal homelessness strategy, the repair of over 300,000 units of social housing and a new Canada Housing Benefit 
What remains to be seen 
While the Conservative Party has yet to respond to the election survey, a review of their platform reveals little of their plans for homelessness or housing beyond proposals to extend mortgage amortization periods, make federal lands available for housing and review the federal government's portfolio of buildings. On a positive note, during the All-Party Housing Debate hosted by the CHRA, CHF Canada, the Canadian Real Estate Association and the Canadian Home Builders Association, Conservative MP Pierre Poilievre re-iterated his party's support for Housing First.  
It is also worth noting that the Conservative Party plans to spend $18 billion less in 'infrastructure' over the next five years and save $5 billion in 'operational savings'. While we don't know exactly which investments would face cuts or delays, there is concern that these could include cuts to desperately needed housing and homelessness investments. 
The importance of building on success and the danger of federal budget cuts 
What makes talk of federal budget cuts from the Conservative Party so worrying is that modern mass homelessness in Canada was created by federal budget cuts in the late 1980s and early 1990s. These decisions had life altering consequences for millions of Canadians and lethal consequences for untold numbers of others.  
After more than 30 years of federal disinvestment in housing, the 2017 National Housing Strategy (NHS) introduced by the Liberal Party returned the federal government to housing leadership, introduced billions of dollars of new housing investment and introduced a legislated right to housing – all of which are a very big deal. 
The NHS showed a government with ambition, working through serious complexity with many partners, dealing with very expensive legacy issues beginning to reverse a housing crisis 30 years in the making. Will the NHS as it is end homelessness in Canada? No. But the NHS gives us a very solid foundation to build on and in this election it is urgently important we protect and build on these gains. 
Cutting housing investments balances budgets on the backs of those least able to afford it and ends up costing more than the cuts would save. 
Budget cost versus the human cost 
People experiencing homelessness have poorer health than the average Canadian, often having one or more chronic health condition, as well as untreated mental health and addictions issues. As more people with untreated health conditions and homelessness are left to languish on the streets, the cost of health care, policing, courts, jail, shelter and supports all increase. 
According to the Canadian Observatory on Homelessness – homelessness now costs the Canadian economy over $7 billion per year. By comparison, the one percent reduction in the Goods and Services Tax put in place by the Harper government in 2006 cost C$4.35 billion.   
There are very good reasons why conservative politicians like President George Bush, Alberta Premier Ed Stelmach and Calgary's conservative business leaders, all led efforts to end homelessness – because beyond the humanitarian tragedy, homelessness is an epic waste of money. A human and financial toll made all the harder to swallow because it is entirely preventable. 
It is noteworthy that Prime Minister Stephen Harper recognized the cost effectiveness of spending on ending homelessness and the economic impact of housing investment. In 2006, A Harper minority government implemented a $1.4 billion housing trust fund investment (developed in a deal between the Liberals and NDP in the previous minority government) and later (after a second minority election win) introduced a $2 billion social housing investment as part of an economic stimulus package. With a majority government Prime Minister Harper introduced Point-in-Time Counts, renewed the Homelessness Partnering Strategy and made Housing First federal policy.  
#VoteHousing on October 21, 2019 
The 2019 federal general election is Monday, October 21 and the stakes for people experiencing homelessness are enormously high. With the right to housing now legislated, we have a real opportunity to push the federal government to undo the damage from decades-old federal policy that we're still paying for.  
It is urgently important we protect and build on our gains. Every vote counts! On October 21 be sure to get out and #VoteHousing by supporting candidates who believe in the Right to Housing, investing in housing and ending homelessness.  
Let's look back four years from now, knowing that how we voted today brought us closer to a Canada without homelessness, set us on a path for measurable and sustainable reductions in homelessness and laid the foundation for an ambitiously inclusive country that takes care of everyone. 
---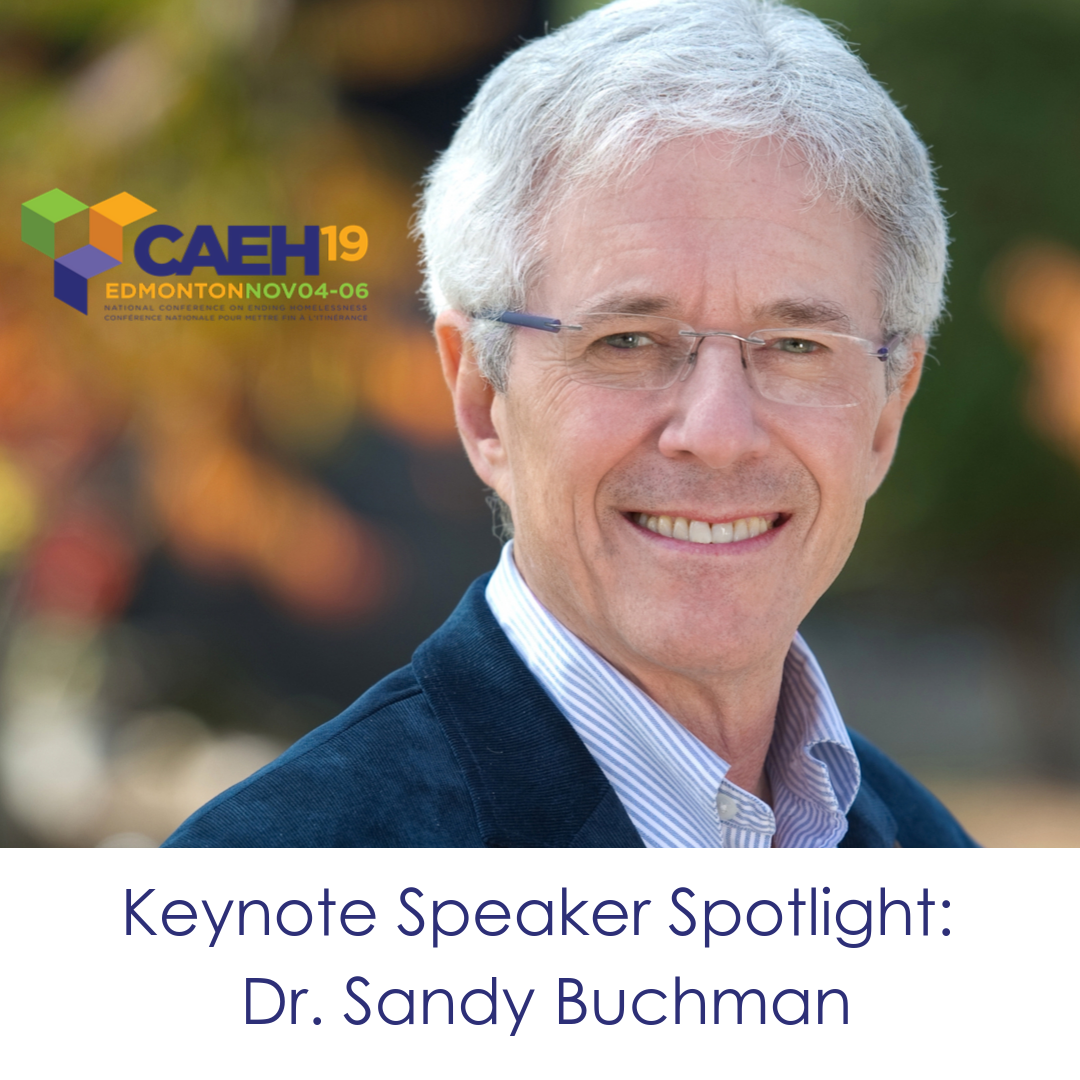 "Death is a social justice issue," says Dr. Sandy Buchman, President of the Canadian Medical Association. He is one of our six all-star keynote speakers for the 2019 National Conference on Ending Homelessness in Edmonton from Nov. 4-6.
Dr. Buchman has dedication his life to ensuring the most vulnerable among us has equitable access to healthcare. He has spent his career not only trying to answer these questions, but making the case for medical, healthcare and social services to work together to support marginalized people with a palliative care lens. Read our interview with him here.
Have you registered for #CAEH19 yet? Online registration closes on October 25. REGISTER NOW.