The National Day for Truth & Reconciliation is observed on September 30, and the CAEH will be closing its office to allow staff to pause and reflect on the impacts of colonization and how we can take meaningful steps toward reconciliation.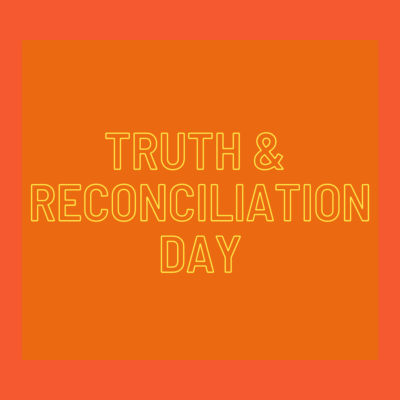 From coast to coast to coast, the Canadian Alliance to End Homelessness acknowledges the ancestral territory of all the Inuit, Métis, and First Nations people that call this land home. We recognize the historic and ongoing impacts of colonization and are committed to rebuilding and renewing equitable and respectful relationships between Indigenous and non-Indigenous peoples via the decolonization of our systems and ongoing reconciliation. We are guided in our work by the United Nations Declaration on the Rights of Indigenous Peoples, the Calls to Action of the Truth and Reconciliation Commission, the Calls to Justice of the National Inquiry into Missing and Murdered Indigenous Women and Girls, and the principles of empowerment and self-determination.  
The CAEH is committed to creating programs, providing services, mobilizing its supporters, and utilizing its voice, influence, and expertise to advance lasting solutions to ending homelessness while working to address the underlying and structural causes of inequity created by the ongoing impacts of colonization and racism against Indigenous Peoples.
But we have a lot more work to do, collectively as individuals and as an organization.
Truth & Reconciliation Day is a time to pause, reflect, learn and engage with community. It's a day to honour the survivors and victims of the residential school system and reflect on the ongoing impact of colonization on Indigenous Peoples. September 30 is also Orange Shirt Day, created to honour the Indigenous children who were sent away to residential schools in Canada and learn more about the history of those schools. Please wear your orange shirt or look to local community organizations who often sell them to support Indigenous-led organizations and efforts.
We hope you support the work of these communities and organizations, whether by donation, volunteering or showing up in community to listen.
Looking for organizations to support, people to follow or events to attend? Here are some resources:
DONATE/FOLLOW: 
EVENTS: 
The National Centre for Truth and Reconciliation has developed a full slate of events for

Truth and Reconciliation Week

until October 1, there will be incredible opportunities to learn from Survivors, Elders, and Knowledge Keepers, including a session on September 30 by Survivor Phyllis Webstad, the creator of Orange Shirt Day.

 

National Day for Truth and Reconciliation will broadcast and stream live September 30 at 8 PM EDT/MDT/PDT (9 PM ADT and 9:30 PM NDT) APTN, CBC,

CBC Gem

, ICI TÉLÉ and

ICI TOU.TV.

 

The

Downie Wenjack Fund

is hosting a discussion with notable speakers that will be available to the public on September 30

 

Wear your orange shirt! If you're looking to buy an orange shirt, we love supporting Indigenous retailers like

Native Northwest

,

Our Feather Clothing Co

,

Every Child Matters Fundraiser

,

Diamond Phoenix Creations

 

There is a call to #LightTurtleIslandOrange: people can share photos of their orange lights, orange shirts, or other Orange Shirt Day commemorations using this hashtag (#IlluminerÎleTortueOrange in French)

 
LISTEN: