The day before the 75th anniversary of D-Day, House of Commons Veterans Affairs Committee Chair MP Neil Ellis announced a motion calling on the federal government to end veteran homelessness by 2025. The motion is supported by opposition parties and will be debated in the House on June 11th. The Canadian Alliance to End Homelessness is in Ottawa today for the announcement along with VETS Canada, the Royal Canadian Legion and Old Brewery Mission.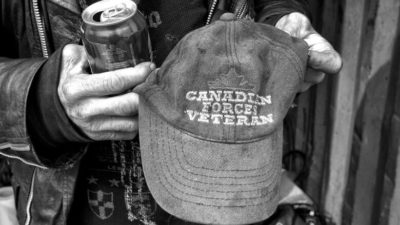 Tim Richter, CAEH President & CEO, is in Ottawa this afternoon to support MP Neil Ellis' Motion M-225, which calls on the federal government to end veteran homelessness by 2025.  
Read Tim Richter's statement below:
Good afternoon everyone.  
My name is Tim Richter. I lead the Canadian Alliance to End Homelessness. I'm thrilled to be here today to speak to you in support of motion M-225.
First, I want to thank Mr. Ellis for his leadership on this motion, and to Ms. Benson and Ms. Vecchio for their support – and to thank all three for setting aside partisanship so that Parliament can be united in calling for action on veteran homelessness.  
Veteran homelessness in Canada is readily solvable. The number of homeless veterans is relatively small, we know what to do and how to do it. Our American friends have cut veteran homelessness in half over the last eight years and there are nine U.S. cities that have ended veteran homelessness altogether. To put the scale of that achievement in perspective, there are approximately 40,000 American veterans homeless on any given night now, compared with all Canadian homelessness at about 35,000 people per night. Overall, estimates of veteran homelessness range from about 3,000 to 5,000 total. This is a solvable problem. 
And we know what to do. My colleagues here from VETS Canada, the Royal Canadian Legion and Old Brewery Mission are already on the ground doing the work. The Canadian Alliance is working with communities who are having success in reducing chronic and overall homelessness – cities like Edmonton, who have reduced overall homelessness 43% in the last 8 years and Guelph Wellington who reduced chronic homelessness 24% in just 7 months. 
Canada has strong veteran networks, solid expertise in communities and proven models to follow. There is strong public support – and what we see today and through this motion, is that there is strong political support as well. What's been missing is federal leadership and decisive action.  
It's time for the federal government to a make a clear and unequivocal commitment to ending veteran homelessness, to put in place a plan to meet that objective and invest what modest additional resources may needed to get the job done. 
I'm asking all Members of Parliament to give this motion unanimous consent on June 11th.  
And I'm asking the federal government to listen to Parliament, and act. 
We have a duty to these men and women. This is a solvable problem. Let's get on with it. 
---
The National Conference on Ending Homelessness arms policy makers, funders, researchers, advocates, community leaders and front line workers with the inspiration, information, tools and training they need to end homelessness. Will we see you there?
Click here to learn more about #CAEH19 in Edmonton from Nov. 4-6.
Register before August 2 to take advantage of our early bird rates!