The State of Women's Housing Need & Homelessness in Canada report uncovers women's experience of homelessness and shines a spotlight on the specific challenges they face. It recommends 8 key opportunities to address the gaps.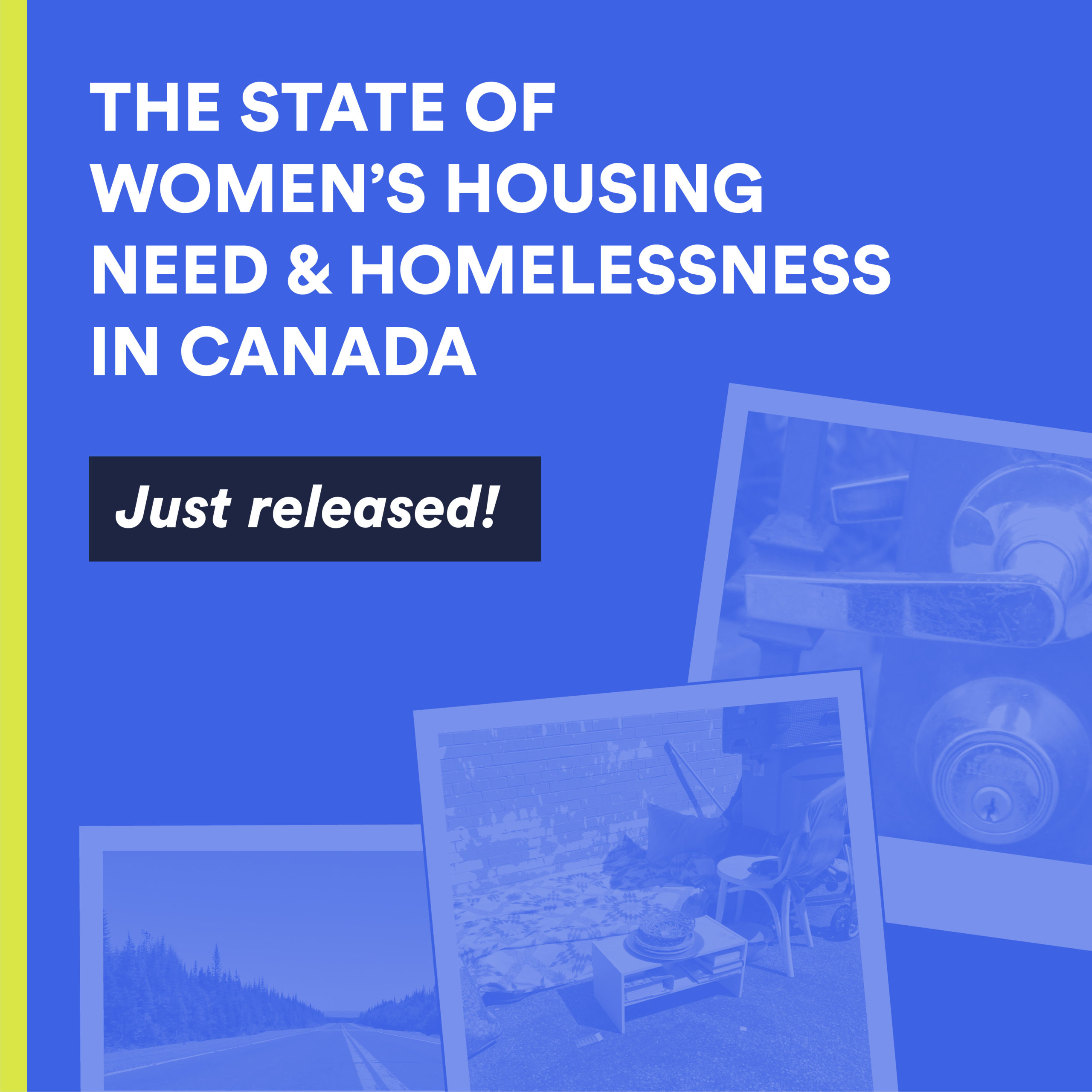 The number of women experiencing homelessness in Canada is dramatically underestimated. It is made invisible by how we define, measure, and respond to housing needs and homelessness. It is uniquely dangerous for women and gender-diverse peoples—and the more we fail to address it, the longer we ensure repeated cycles of violence and housing precarity, as well as homelessness, according to the comprehensive State of Women's Housing Need & Homelessness in Canada report released today from the Women's National Housing & Homelessness Network (WNHHN).
Under the leadership of the WNHHN and its members with lived expertise, the Canadian Observatory on Homelessness completed the research, with support from the Canadian Alliance to End Homelessness and Keepers of the Circle. It reviewed evidence on the unique causes, consequences, and experiences of homelessness and housing precarity for women, girls, and gender-diverse peoples in Canada—and was guided by women with lived expertise. The review outlines eight key challenges and opportunities unique to women's experience of homelessness.
"We can no longer hide behind the unknowns of women's experiences of homelessness, pretend like it doesn't exist or continue to fail to remedy it," says Arlene Hache, WNHHN co-chair. "This research tells us exactly what we need to do, and Canada has the means to do it."
---
This is an opportunity to tell the committee—responsible for making policy decisions on health, quality of life, and economic security for Canadians—about the desperate struggles of women experiencing homelessness (especially during and after this pandemic) and the need for a recovery for all. Will you take 30 seconds to send a letter to the committee now? Click here.
---
Canada needs a gender-sensitive approach to homelessness because existing systems fail to transition women and girls out of homelessness quickly (if at all), and in many cases they are left with no option but to return to situations of violence, precarity and marginalization. Addressing the housing needs of women is critical to solving chronic and intergenerational homelessness. If it continues without intervention, it will be impossible to solve homelessness in Canada, according to the research findings.
The Indigenous literature review component led by Keepers of the Circle, an Indigenous Hub operated by the Temiskaming Native Women's Support Group in Northeastern Ontario, revealed Indigenous women experience the most egregious housing conditions throughout Canada. Data showed Indigenous women remain the most underserved in both the Violence Against Women and homelessness sectors.
"COVID-19 provides us an opportunity to re-imagine our response to homelessness in Canada. It is our chance to finally realize the right to housing for women," says Kaitlin Schwan, Senior Researcher at the Canadian Observatory on Homelessness and WNHHN Co-Chair. "This research highlights the housing rights violations women are up against in Canada. We should use this research to adopt policies, legislation, and programs that work for women."
For more information on the full literature review visit, womenshomelessness.ca/literature-review.
KEY FACTS AND BACKGROUND
COVID-19 presents Canada with an historic opportunity to transition effective emergency responses into long-term policy and practice solutions that end homelessness for women, girls and gender diverse peoples.
According to the literature review:

There is an acute lack of women-only, trauma-informed housing services in Canada, and even fewer services led by and for Indigenous women.
The prominence and greater visibility of men in the homelessness sector has led to a male-centric policy and service environment, creating the conditions for women's homelessness to remain invisible. As a result, it is likely that we are greatly underestimating – and thus failing to respond to – the immense number of women who are homeless in Canada.
Women and gender diverse peoples face profound violence on the streets and in public systems and are regularly separated from their children because of their housing status and exposure to violence.
In 2016, the occupancy rate at family shelters was 88.7%, a 27% increase since 2007; nearly 90% of families using emergency shelters are single women.
42% of women living on reserve live in houses that need major repairs.
We have not yet implemented effective research measures and methods capable of generating a strong statistical portrait of homelessness among women in Canada.
91% of women in Canada who are homeless have experienced assault in their lifetime.

This research was made possible with funding from the Canada Mortgage and Housing Corporation.