Financialization, housing and homelessness: Leilani Farha is on it. The UN Special Rapporteur on the Right to Adequate Housing talks to us about these themes in PUSH, the film that followed her around the globe for two years. The CAEH and Alberta's 7 Cities on Housing and Homelessness are screening the film on November 5 during the 2019 National Conference on Ending Homelessness in Edmonton – the event has sold out.
https://www.youtube.com/watch?v=k9Q4So4femM
It's happening right now.
The financialization of housing. People—outside of the wealthiest class in society—are being squeezed out, pushed out and in some cases run out of the neighbourhoods they call home.
And if we don't stop it, "we'll lose the diversity of our cities," says Leilani Farha, Special UN Rapporteur on the Right to Adequate Housing. Her fight is the focus of the 2019 documentary film PUSH, which is about the financialization behind the housing crisis unfolding the world over.
"I think we'll end up with cruel societies, societies that lack compassion. The human rights project that we started after World War Two, to protect human dignity, will be lost," says Farha, about the risks of not protecting housing as a human right.
---
Alberta's 7 Cities on Housing and Homelessness, along with the Canadian Alliance to End Homelessness, are hosting a special screening of the documentary PUSH at CAEH19 on November 5, 6 p.m. reception and 7 p.m. program. The event has sold out.
---
PUSH follows Leilani as she travels around the world for over two years, trying to understand who's being pushed out of cities and why. She comes to face the stark reality that powerful private equity and asset management firms have essentially turned housing into gold—a commodity to be invested in, instead of a protected human right.
"We need to stop looking at housing as bricks and mortar, housing being about construction, housing being about units," Farha explains. "Right now, we need to recognize that housing is about finance, and tax law and regulatory frameworks. Until we acknowledge and understand that we have now entered the domain of high finance, we're not going to be able to address this and I think a human rights approach helps in that regard.
"We have to recognize who the monster is and go after that monster."
The film dives into the cause of inadequate and unaffordable housing, linking it to international private equity and asset management firms such as Blackstone, Timbercreek, and others. Through interviews with tenants around the world, it shows the ripple effect these firms are having on everyday people's lives.
PUSH also raises the argument that so often advocacy is up against gentrification, but in fact, gentrification is a symptom of the financialization process that's led to the current worldwide housing crisis, according to Farha.
"I hope that the movie really brings that point home," she says. "There is a lot of resistance against gentrification. My fear is if we name this as gentrification then the advocacy we do to address it will be aimed at gentrification, and I'm not sure if we're going to be successful in stopping the global financial actors."
In fact, these global financial actors "could care less" about gentrification.
"What they're seeing is property being undervalued and that's their main mode of operation," she says. "They know simply by sniffing around at a property, they know the neighbourhood will become different—they will drive out a certain class and attract a new class. And with the new class comes gentrification.
"They don't care. They know they can find tenants who can pay more rent."
With the "monster" being identified as financialization, backed by global and powerful finance firms, the answer or solution therefore feels almost insurmountable—and often, Leilani says, she feels it could be.
"To be honest, it's daunting," she says. "Here I am this 5'2" person from nowhere and how am I going to galvanize a global movement to address this? It's ballsy and also ludicrous on one hand—and I don't see any other way around this."
While the film is submerged in this grim reality it also leaves us with a call to action. Leilani kickstarts the creation of The Shift, a new worldwide movement to reclaim and realize the fundamental right to housing, born out of a conversation at a mayors meeting that's seen in the film.
"We're dealing with global forces, and money is booting around the world and landing in different places," she says. "I'm trying to get a diverse range of stakeholders together and I've already started attracting different ones, such as architects, city and urban planners, and national human rights institutions."
Leilani is also encouraged by Canada legislating a right to housing on June 21.
"What happened in Canada is a story that should be told around the world so actors like Blackstone know there is a whole other paradigm out there committed to this," she says. "We need something global and it's daunting but it's necessary."
PUSH was directed by award-winning filmmaker Fredrik Gertten and was first released on March 23, 2019. Learn more about the documentary at pushthefilm.com.
Watch Leilani Farha deliver a keynote address at last year's National Conference on Ending Homelessness:
If you're attending CAEH19 in Edmonton, join us on November 5 (6 p.m. reception, 7 p.m. program start) for a special screening of the film at the Royal Alberta Museum.

The event has sold out.



---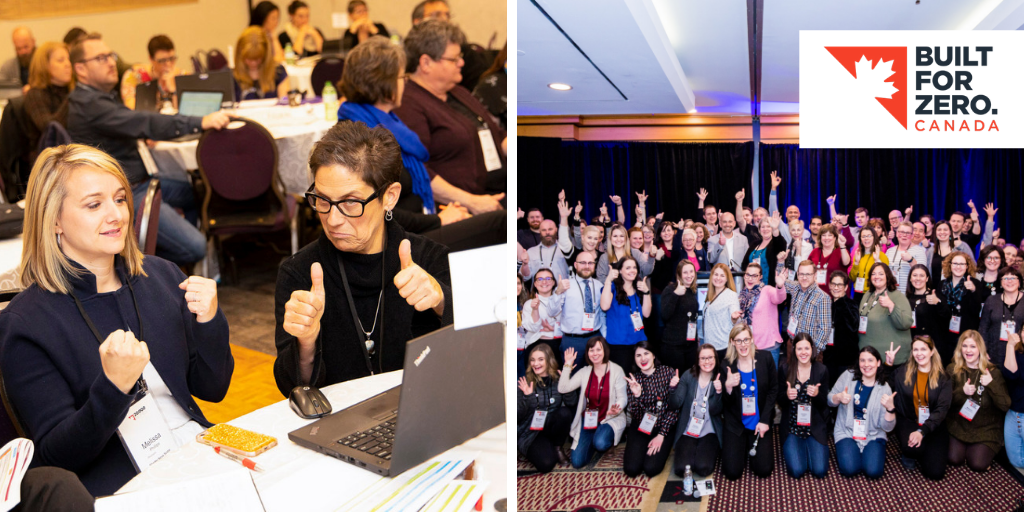 Join our small but mighty Built for Zero Canada team as an Improvement Advisor (IA), with a focus on ending veteran homelessness in Canada.
The IA is a skilled coach/facilitator with expertise in at least one relevant content area including: By-Name Lists, Coordinated Access, Housing First, Housing-Focused Shelter, Diversion, Progressive Engagement; and at least one problem-solving competency including: Systems Design, Data Analytics, Quality Improvement, Goal-Oriented Facilitation and/or Human Centered Design.
The IA will be responsible for directly coaching a specific caseload of communities (virtually and in-person) through the BFZ-C milestones using a data-driven approach that emphasizes the iterative deployment of these key problem-solving skills over fixed technical solutions.
Application deadline is Sept. 18. Click here to learn more and apply.