Built for Zero Canada community Chatham-Kent hits major milestone after reducing its chronic homeless numbers by 10% in three consecutive months, housing 22 people. This blog is a part of our Bright Spot series highlighting outstanding work in ending homelessness happening across Canada.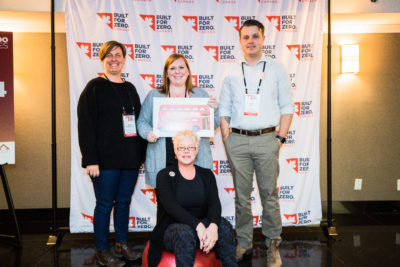 Chatham-Kent is back in the spotlight.
Despite experiencing a significant spike in its chronic homeless numbers last November, Chatham-Kent is proving it's got it under control. In the last six months, the Southwestern Ontario community has reduced those numbers by 37% after housing 22 people.
On its current trajectory, Chatham-Kent is projected to reach functional zero on chronic homelessness by March 2020 – meaning they are in the "home stretch" with less than one year to go. They are ready to prove that solving homelessness is not only possible but doable.
"Ending homelessness is incredibly difficult work and can feel overwhelming, especially for smaller rural-urban communities like Chatham-Kent," says Chantal Perry, Manager, Employment and Social Services. "Instead of focusing on what we didn't have, and couldn't do, we rallied and built support and momentum within our service providers and front-line staff."
The data informed the team where it needed to make small shifts and changes to its programming and processes, she adds.
"We realized we can't end homelessness in one big leap – success is one system or service innovation, and one person housed or stabilized, at a time," Chantal notes. "Reductions began when we became a community of service providers focusing collectively on people and the small system barriers and program solutions that will get them housed."
The community confirmed a baseline month in December 2018 with 59 people experiencing chronic homelessness, after achieving a Quality By-Name List (QBNL) in June 2018. Now, Chatham-Kent has shown a greater than 10% reduction in chronic homelessness after reporting 37 people experiencing chronic homelessness in June 2019, which is a reduction of 22 folks or 37% between January and June 2019. They are only a handful of people away from reaching a 50% reduction.
Reaching the "Below Baseline" milestone is an important step along the path of reaching functional zero chronic homelessness for a Built for Zero Canada (BFZ-C) community.
But it wasn't that long ago that Chatham-Kent had the opposite problem.
Although the community achieved a QBNL in June 2018, it had refined its data collection and entry processes to include Ontario Works Case Managers late last year, which led to greater awareness of and connection to folks experiencing 'hidden homelessness.' This resulted in a shockingly larger number, but it also meant Chatham-Kent had a much better idea of what was going on in its community.
In response, the team rallied its efforts and really dug into its data, reviewed its definitions and provided more community training on the benefits of Coordinated Access Systems. Every month, Chatham-Kent reviews its QBNL, seeing who has moved away, found housing or was offered housing. Read more about Chatham-Kent's journey in our previous Bright Spot post.
Chatham-Kent's hard work and dedication to reaching functional zero chronic homelessness is demonstrated by its impressive accomplishments. This leading community is creating the necessary proof points to show that solving chronic homelessness—followed by all homelessness—is becoming a reality in Canada.
This blog is a part of our Bright Spot series highlighting outstanding work in ending homelessness happening across Canada.
---

ICYMI: We released our preliminary program for #CAEH19! With a record 84 sessions across 10 streams, the 2019 National Conference on Ending Homelessness this November is promising to be our best yet. Join your peers from November 4-6 in Edmonton to network, learn and meaningfully engage in ending homelessness in Canada.
Did you know that WestJet is offering discounted flights for conference goers? Learn more about WestJet's generous offer that helps us keep #CAEH19 accessible, visit our website at conference.caeh.ca to learn more about this special deal.
Be sure to register for #CAEH19 before Aug. 2 to take advantage of our early bird rates!