In this guest & Bright Spot blog, Sandra Clarkson shares how over the last 12 months the Calgary Drop-In Centre has housed 326 people and reduced its chronically homeless population by 22%. This blog is a part of our Bright Spot series highlighting outstanding work in ending homelessness happening across Canada.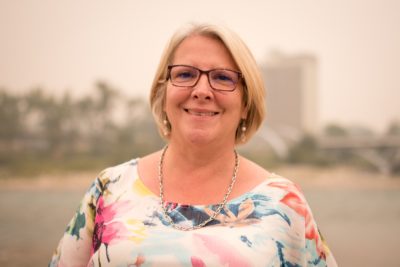 By Sandra Clarkson, Executive Director, Calgary Drop-In Centre
Last year, the Calgary Drop-In Centre decided to end chronic homelessness. Over 12 months, we housed 326 people—more in 12 months than the entire history of our centre.
The Drop-In opened nearly 60 years ago and now has the largest number of shelter spaces of any emergency shelter in North America. But that's not something we brag about. Instead, we want to reduce shelter numbers and effectively get people back into the community in their own homes as quickly as possible. To this end, we're aiming to optimize the emergency shelter and be an effective resource for those experiencing, or at risk of experiencing, homelessness.
We decided to focus on ending chronic homelessness in our shelter because we recognized we had been unintentionally contributing to the crisis by not providing easy access points out of shelter and into permanent homes for long-term shelter stayers. We're shifting to a housing-focused shelter by changing the intention of our services and programs to focus on housing. This means that every staff member plant the seeds of hope and housing with all clients. To give our ambitious goals the best chance, we created two housing-focused teams: case management and diversion.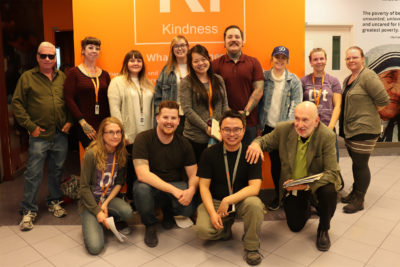 Our new case management team is focused on people who have stayed at the centre the longest—many for more than 15 years. The case management team works with these long-term shelter stayers to find appropriate and right-fit housing in the community. In 2018 alone, we were able to reduce our chronic population by 22%. By shifting our focus to helping people access housing, we aim to provide adequate support for people to exit shelter and integrate back into community. With the help of the case management team, 212 people moved into their new homes. This was done through coordinated access & assessment, the centre's housing programs, community partners such as Horizon Housing, and in community.
The diversion team focuses on new shelter stayers and works to determine what brought them to us and how to get them reconnected to community as quickly as possible. We see an average of 100 new clients every month and many newcomers stay in shelter 21 days or less. However, those who stay longer than 21 days are at increased risk of becoming chronic shelter stayers. The diversion team is tasked with looking at how we can connect with these individuals before they get lost and entrenched in the shelter system.
Recognizing that not everyone needs or wants to work with a "worker," we converted space in the shelter that was formerly known as the "Book Nook" into the first ever Housing Hub in the centre. Here, we have staff available with tips and tricks to getting housing, along with DIY quick reference guides so people can find solutions in their own way.
In addition to these teams, we are now using data for client service delivery, not just analysis. This will allow us to be more effective in our work. We have created an internal triage process, targeting those that need the services the most and matching them with the appropriate program interventions.
We have made great strides, but still have a lot of heavy lifting ahead of us. We will continue to work on best practices in emergency shelter with Iain DeJong of OrgCode Consulting, continually improving our practice and being more effective in reaching our goal of ending chronic homelessness at the centre.
We are excited about having reasonable numbers of people that are truly in need of emergency shelter and connecting them with solutions as quickly as possible. We have big plans for 2019 and we will keep you posted as we continue our transformation and work to get everyone housed appropriately.
CAEH is working with Sandra and other shelter leaders to form the Canadian Shelter Transformation Network (CSTN). The CSTN will be a peer-led network dedicated to supporting the transformation of homeless shelters through research, training and peer learning.   If you are a leader in a family, single adult, women or youth shelter and would like more information on, or would like to join, the CSTN email info@caeh.ca.
Watch for an announcement about the founding meeting and launch of the Canadian Shelter Transformation Network in April.
---
Our Bright Spot blog series highlights outstanding work in ending homelessness happening across Canada.