The CAEH is pleased to support the creation of the National Alliance to End Rural and Remote Homelessness (NAERRH). It is a network of individuals and organizations focused on building and elevating a collective voice across Canada to advocate for the importance of preventing, reducing and ending homelessness in rural and remote communities. In this guest blog, Terrilee Kelford, Shane Pelletier and Ayon Shahed share the realities of homelessness in Canada's rural and remote communities and how it led to the founding of NAERRH. 
By Terrilee Kelford and Shane Pelletier, Co-Chairs of the National Alliance to End Rural and Remote Homelessness, and Ayon Shahed, Director of Strategic Development, Choices for Youth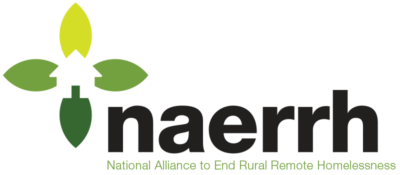 Couchsurfing is synonymous with the hidden nature of rural and remote homelessness in Canada. Individuals and families struggling without a long-term place to live, sleeping on couches and in overcrowded housing situations with family, friends or anyone who will take them in.
But it isn't the only reason rural and remote homelessness is hidden says our new group, the National Alliance to End Rural and Remote Homelessness (NAERRH).  We believe a lack of research, training, national press and federal investments in policy and funding have also contributed to the hidden and neglected aspects of rural and remote homelessness.
We have a lot of couchsurfing but we also have people sleeping rough and even dying from homelessness in rural communities. You may not see them on the streets, but they are there. What we don't have is the same data, resources and sustainable funding available to fight homelessness like our urban neighbours do and this is contributing to issues like migration.
---
---
We Are Ready (2018), a report created by Choices for Youth in St. John's, Newfoundland and Labrador, states, "almost 40% of homeless individuals surveyed during the Point-in-Time Count in St. John's had arrived in the city within five years, and one in five had come specifically to access supportive services".  It was found, however, that this pattern of migration can leave individuals isolated and disconnected from natural supports, community and land, exposed to increased risks and reliant upon overburdened urban services. 
Despite the announcement of a National Housing Strategy in 2017, the lack of federal investments in rural and remote specific research, funding and policy prevents communities like those outside of St. John's from addressing unique issues like migration. Not only does this lack of attention result in a more traumatic path for individuals affected by homelessness, in the end it is a lost opportunity to engage in prevention—creating a need for more expensive interventions later. 
It also strips rural and remote communities of future employees, business owners and citizens.
Rural and remote communities are essential parts of a prosperous, healthy and vibrant Canada. Representing a third of the Canadian population, local governments, businesses, and service organizations in these rural and remote settings are serving millions of people. They're contributing significantly to our GDP and creating thriving communities across the country.  However, reductions in public investments, the impacts of climate change, evolving labour and manufacturing markets, housing affordability pressures, and the limited availability of social supports in rural and remote communities have created significant challenges that require federal leadership and innovation.
Indigenous people are also heavily over-represented among those experiencing homelessness. It is a distinct experience requiring its own solutions, many of which must be implemented in rural and remote areas. One thing that we consistently see when visiting rural and remote communities is the disparity in service needs versus service offerings. This disparity creates an environment in which fresh funding often goes to back-fill the need in communities. Indigenous peoples in many cases are the service beneficiaries struggling with homelessness receiving substandard care, despite the above-average standard of care provided by rural service workers. If there are increases to both understanding and funding, the scales can be balanced.
The National Housing Strategy and Reaching Home: Canada's Homelessness Strategy fails rural and remote communities by not addressing the growing need with increased funding and by not addressing nor defining, pervasive, hidden homelessness that many Canadians face every day in our rural and remote communities.
In order to achieve a collective movement that delivers both the National Housing Strategy's and Reaching Home's objectives, then it's essential to invest in research, funding and policy that promotes solutions tackling rural and remote homelessness. It must be seen on the same continuum as urban homelessness. This is how we build a Canada that works for all Canadians.
To this end, individuals, organizations and leaders from across the country have come together with the Canadian Alliance to End Homelessness to establish, for the first time, the NAERRH. This network of individuals and organizations is focused on creating a collective voice across Canada through networking, advocacy, training and shared learnings with a goal of preventing, reducing and ending homelessness in rural and remote communities.
The NAERRH is excited to announce that there will be a Rural and Remote stream at this year's CAEH 2019 National Conference on Ending Homelessness in Edmonton, Alberta from Nov. 4-6.  We would like to encourage folks from rural and remote communities to bring your innovative or evidence-based programs or approaches to the national stage by submitting a proposal to present.