Report details measures to create 500,000 jobs, save billions of dollars, and end homelessness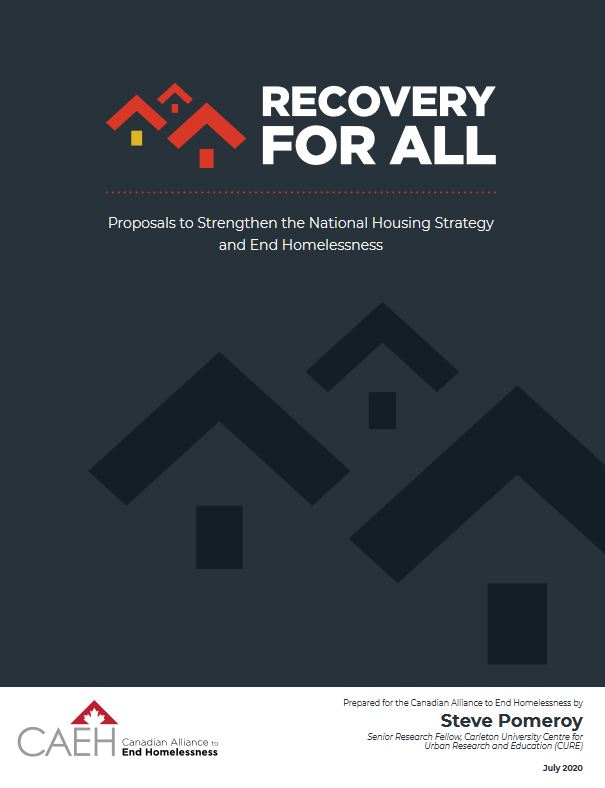 Canada can solve homelessness by 2030 if it implements the Recovery for All (RFA) campaign's 6-point plan, according to the report, Recovery for All: Proposals to Strengthen the National Housing Strategy and End Homelessness released today.
The report, commissioned by the Canadian Alliance to End Homelessness (CAEH) and written by Steve Pomeroy, Senior Research Fellow at Carleton University Centre for Urban Research and Education (CURE), details measures to strengthen the National Housing Strategy (NHS). The existing NHS aims to reduce chronic homelessness by 50%. The plan proposed by Recovery for All would ensure housing for all those currently experiencing homelessness and prevent homelessness for those at risk due to high housing costs and precarious situations.
"The pandemic has clearly shown that housing is key to individual health and safety as well as community well-being and economic prosperity. For over 30 years, hundreds of thousands of Canadians have suffered from a lack of housing and life-threatening homelessness," says Tim Richter, CAEH President & CEO. "Our plan ensures homelessness in Canada becomes rare, brief and non-recurring by 2030."
Building on local COVID-19 emergency responses, the plan includes measures to create new affordable and supportive housing quickly through acquisition of existing properties and modular housing construction, as well as a new Homeless Housing Benefit to ensure people housed in hotels during COVID-19 are not sent back to shelters. The plan also proposes to more than double new construction of affordable housing under the NHS to 370,000 units over 10 years.
In addition to housing everyone currently experiencing homelessness, the plan aims to prevent homelessness for 300,000 households at risk who spend more than 50% of their income on rent.
"Recovery for All is an action plan for an affordable, purposeful, and meaningful process to end homelessness," says Steve Pomeroy, report author.
The RFA plan will generate up to 500,000 jobs over the next 10 years, in both construction and in support services, which helps address the rising unemployment due to COVID-19.
"During this crisis and in the rebuild, we must ensure the unique needs of women are not ignored in all of our recovery efforts. Without a safe and affordable place to live, our workforce won't be ready to restart the economy," says Anjum Sultana, YWCA National Director of Public Policy & Strategic Communications. "More than that, housing is critical to fostering a healthy and thriving society that works for everyone."
For more information visit, recoveryforall.ca/report. Read the full report by clicking here.
Quick Facts:
RFA's 6-point plan to end homelessness calls for targeted spending of $52 billion over 10 years. Currently Canadians spend $7 billion a year on emergency responses that leave people homeless (totaling $70 billion over 10 years). This plan generates potential savings to taxpayers of $18 billion over 10 years.
Key elements of the plan include:
Ensuring housing for all those currently experiencing homelessness and preventing homelessness for over 300,000 households at risk due to high housing costs and precarious situations.
A new program for acquisition and conversion of hotels and apartments as well as the use of modular housing options for rapid creation of affordable and supportive housing—75,000 total units would be acquired over 10 years.
Boosting the total National Housing Strategy housing construction to 370,000 units by:
Expanding the supply of permanent supportive housing with 50,000 units of permanent supportive housing over 10 years; and,
Expanding affordable housing by proposing construction of 170,000 new affordable units.
Creating a distinct Urban Indigenous Housing Strategy to address the disproportionate number of Indigenous Peoples experiencing homelessness – with 30,000 dedicated units.
Expanding the Canada Housing Benefit with a new Homeless Housing Benefit to help a minimum of 55,000 people avoid or exit homelessness.
Expanding direct federal investment in community responses to homelessness through Reaching Home including specific new investments in rural and remote homelessness and women's homelessness.
Helping the federal government ensure the National Housing Strategy progressively realizes the right to housing by targeting investments to those in greatest need and providing a path to ending homelessness by 2030. 
Additional Quotes:
"If the pandemic has taught us anything it is that the folly of sustaining high levels of homelessness can't continue. The opportunity for real change is before us, and the new Recovery for All report highlights how it can be done, including embracing a shift to prevention. We can end homelessness in Canada, if we choose to." – Stephen Gaetz, Canadian Observatory on Homelessness President & CEO
"Year after year, women's shelters have to turn women away due to lack of space. Because there's nowhere else to go, women are staying longer. Safe and affordable housing is crucial for shelters to help more women and children transition to lives free from violence." – Lise Martin, Women's Shelters Canada Executive Director

Steve Pomeroy's analysis on the investments needed to acquire and build affordable housing contributes significantly to our understanding of the supply-side challenges and opportunities in Canada. This analysis will help policy makers strengthen the National Housing Strategy, bringing us closer to realizing the human right to housing in Canada." – Elizabeth McIsaac, Maytree President

"We're in the middle of a pandemic that reveals, to everyone, the necessity of a population that has access to safe, secure shelter. Recovery for All is using the momentum of this moment to propel us forward into a just recovery for all, not the few." – Leila Edwards, Canada Without Poverty

"The pandemic has further exposed the weaknesses in our housing and supports system, leaving the most vulnerable most at risk.  Recovery for All comprehensively strengthens our support systems and if adopted, will ensure that every Canadian has a safe, secure and affordable home," – Jill Atkey, BC Non-Profit Housing Association CEO

"Women experiencing housing need and homelessness have suffered tremendously during COVID-19. If we want to build back better, we need a significant investment in permanently affordable housing that works for women. Recovery for All provides a map for how to get us there at a national level." – Kaitlin Schwan, Co-Chair of the Women's National Housing & Homelessness Network

"Not ending homelessness is now a violation of our human rights. Homeless people are all someone's dad, mom, brother, sister, son or daughter, we need to work together to end this now." – Debbie McGraw, Co-chair of the Canadian Lived Experience Leadership Network
"These CAEH proposals are clear, evidence-based, doable actions that will help the federal government and Canadian communities meet their goals of reducing homelessness. These important adjustments to the National Housing Strategy respond to the needs and opportunities that COVID-19 has created." – Greg Suttor, housing policy and research consultant