The Ontario community is getting everyone on board in its concerted effort to coordinate its services and improve how it responds to homelessness. This blog is a part of our Bright Spot series highlighting outstanding work in ending homelessness happening across Canada.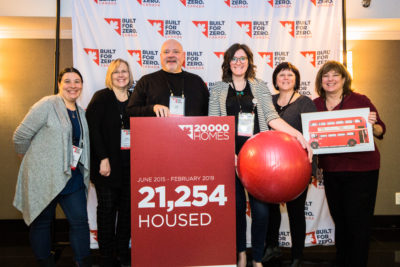 When Peterborough Social Services widely sent out a big event invite to community members and potential partners, they were not expecting the response they received. Following months of development and meetings, the team was gearing up to officially launch their Coordinated Access System (CAS) on April 1  but wanted to release it to the community a few days before. 
CAS is a way for communities to design, streamline and bring consistency to the way homeless people access housing and services. A strong CAS uses a By-Name List and a Housing First approach along with a standard and coordinated process for access, assessment, prioritization and referral for housing and other services across the agencies and organizations in the community. It's a challenging process to start a CAS, and the Built for Zero Canada community of over 220,000 people wanted to get as many people involved as possible via their launch event on March 27. 
But what they didn't expect was just how many people in the community wanted to get involved, too.  
"We were super pleased with the turnout but also super pleased with the response," says Dorothy Olver, Program Manager at Peterborough Social Services. "People were so positive about it." 
Apart from the usual suspects of key system partners showing up, representatives from correctional services, local police services(including the Chief of the Peterborough police, victim services, and community development officer), Executive Director of the local nurse practitioner clinic, the local hospital's family health team, Salvation Army, and the Peterborough Housing Corporation, among many others, came as well. 
They did a two-part meeting catering the presentation per group to more effectively distill the information—starting off with one for homeless service entry points (including emergency services, the Housing Resource Centre, FourCAST, YWCA shelter). "That was the meeting we went over the updated process guide and the tools to do it," Dorothy says. They also made sure every resource they had was available on their website "so people can access updated information and tools at any time." 
The second meeting was for tertiary support, such as police, hospital, corrections and others. "We wanted to make linkages on discharge planning from those types of services—key messages around don't discharge into homelessness," she adds. 
Dorothy says they were even taken up on their offers to do on-site presentations for other staff members who couldn't make the launch meeting. "I was super impressed with this." 
Now it's about driving the momentum forward and keeping the energy up from that meeting, according to Erin Forrest, Homelessness System Data Administrator with Peterborough Social Services. "I've been meeting with different agencies to speak to frontline staff on how to be part of the system." 
Peterborough Social Services is also trying to do more training, such as opening up Service Prioritization Decision Assistance Tool (SPDAT) training, housing-focused shelter training, and they've launched a weekly newsletter jam-packed with resources and information to keep everything coordinated and on track. 
By mid-April, they had names go forward for the first three vacancies. "We're still working through challenges," Dorothy says.  
While they have "bumps to iron out" over the next six months, by June the team aims to have a Quality By-Name List. Dorothy says they're "well on the way to getting there." She expects that by October they'll feel more confident in their information and data.  
One of the main challenges is having a good data set, which comes down to having dedicated time to do it. That real-time data is part of Erin's ever-evolving role at Peterborough Social Services. With a computer science background, she's been able to work on HIFIS. "The reality is we can't wait," Erin notes. "Development for automatic processes is really what I've been working on to move forward as much as we can." 
Dorothy says they want to be confident in validating their numbers and they're still working through their By-Name List. "We're looking forward to reporting our inflow and outflow, and how people are being supported. 
"We want to know the number of youths, Indigenous, and chronic, the acuity in our community and what supports people need," she says. "And where are the gaps in that system?" 
With a goal to end chronic homelessness by 2025, Peterborough is grateful for the support provided by Built for Zero Canada to help get them there. 
Building a CAS is an important step toward ending homelessness and a key feature of Built for Zero Canada. So far, 14 communities are well on their way to having a CAS based on the current Scorecard. An updated Scorecard that aligns with the federal government's new homelessness strategy, Reaching Home, is coming this summer.   
"So many of the resources that the campaign has put forward has helped us make a path," Erin says. "If we were left to our own devices, we would've been scrambling or running toward an outcome but maybe not in the same direction." Key resources have included the Scorecard, media toolkits, and attending Learning Sessions, which provides dedicated time for the team to work together, uninterrupted by other responsibilities. 
Challenges aside, seeing the community come together has signaled that Peterborough is ready to solve homelessness. "The buy-in and energy had been amazing," Erin says. 
Check out these Peterborough resources: 
All materials in google drive at

www.bit.ly/PTBO_homelessness

including: 

 

Coordinated Access System Process Guide

 

HCRT Terms of Reference

 

VI-SPDAT Forms

 

Addition

Forms (single adult, youth and family)

 

Update Form

 

Discharge Form



We've developed a rich library of CAS resources from these communities: Click here. We will soon share exciting news about CAS training for communities involved and not involved in Built for Zero Canada!  
---
This blog is a part of our Bright Spot series highlighting outstanding work in ending homelessness happening across Canada.