Built for Zero communities from across Canada are celebrating both large and small victories thanks to their unwavering efforts to end homelessness—even in the face of a pandemic. This blog is a part of our Bright Spot series highlighting outstanding work in ending homelessness happening across Canada.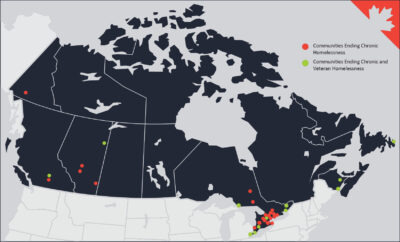 The second wave of COVID-19 hasn't stopped 33 Built for Zero Canada communities from making progress towards ending chronic and veteran homelessness; many of these comminutes have seen improvements in their data collection processes and By-Name Lists (BNLs) and are celebrating reduction milestones on the path to achieving Functional Zero.
Built for Zero Canada communities use timebound action cycles that begin with clear and measurable aims—typically centred around By-Name Lists and reductions in homelessness—to help focus and monitor their improvements, progress, and learning over time. In the past 4 months, many communities have not only made progress, but reached or exceeded their aims.
"We have joined together in this movement to create a future where homelessness is not inevitable or a way of life," says Marie Morrison, Director of Built for Zero Canada. "[A future] where homelessness is rare overall, and brief when it occurs—and we are starting with ending chronic and veteran homelessness."
Even in these challenging times of the pandemic, communities have persevered to reach and sustain milestones in reducing chronic homelessness. Fort McMurray, Guelph-Wellington, Dufferin County, and Saint John have reduced chronic homelessness by 10 to 30 percent and Medicine Hat is in the home stretch towards achieving Functional Zero for chronic homelessness. Meanwhile, London reached the historic milestone of Functional Zero Veteran Homelessness, making it the first community in Canada to achieve a Functional Zero proof point.
Continuous improvements drive continuous reductions
Once a community achieves a Quality By-Name List (QBNL), they can focus on driving monthly reductions in their active homeless population with the goal of reaching and sustaining Functional Zero. Through coordinated access and systems improvements, many Built for Zero Canada communities have reached milestones on these fronts.
Saint John and Windsor-Essex are two new communities who have achieved Reaching Home Quality Coordinated Access—the first of 3 levels on the Coordinated Access Scorecard. Meanwhile, Dufferin County is the first community to confirm Advanced Quality coordinated access thanks to their commitment to continuous improvement.
"A lot of getting to Advanced [Quality] is having a continuous improvement plan in place to keep evolving local systems so that they are 'built for zero'," says Marie.
Notably, Kingston has achieved a veteran QBNL, joining the ranks of four other communities with QBNLs: Fort McMurray, London, Moncton, and Saint John. Achieving a comprehensive and real-time QBNL that produces reliable data is a key milestone in reaching Functional Zero. In fact, communities can set their thresholds for Functional Zero once they sustain their QBNL data for more than 6 months. Fort McMurray recently crossed the 6-month mark and can now set their veteran Functional Zero threshold, with Moncton and Saint John only one month away, and Kingston two months away.
Celebrating victories, large and small
In recent months, many other communities have also seen new housing move-ins, housing opportunities go live, progress towards Built for Zero milestones, and other data victories. Here are just a few examples highlighted at a recent BFZ-C event:
Chatham-Kent has housed 50 people during the pandemic.
Durham Region is on track to add over 100 new housing opportunities to their coordinated access system in 2021.
Hamilton implemented an Intensive Heath Care Supports pilot that has strengthened the relationship between the homelessness response sector and the health care sector and has also secured 80 portable housing benefits for people experiencing homelessness.
Kelowna celebrates reaching more than 300 units of new housing with supports. Read more here.
Niagara Region is opening a new building in two weeks, meaning 17 more units will be live.
Ottawa has housed 192 single adults and youth during the pandemic.
Penticton is getting close to submitting complete BNL data.
Saint John, Peterborough, and Guelph-Wellington are using their BNL data for planning, advocating for resources, educating their communities, and driving reductions. Hear more about it in this webinar.
Simcoe County has achieved 100 percent balanced data over the last six months, and just reached 10/10 on their BNL Scorecard. With a few more months of data, they can set a baseline to confirm their QBNL.
Stratford-Perth-St. Marys is leading and learning from improvement projects on the housing process and increasing move-ins.
Toronto released their Shelter Flow Dashboard—the most comprehensive public dashboard in Canada. Read more here.
Whitehorse is accelerating move-ins and has housed 12 individuals in 5 weeks through their 100 Homes campaign.
In the face of difficult pandemic circumstances and growing concerns about homelessness in and across Canada, these 33 Built for Zero communities are proving that progress towards ending homelessness can be made with unwavering commitment, diligent effort, and continuous improvement.
Congratulations to all 33 communities for their incredible efforts and successes!
This blog is a part of our Bright Spot series highlighting outstanding work in ending homelessness happening across Canada.